How do I start a charge using the ChargeNet app?
Please complete the following steps before plugging in your connector:
Download our free app from the iOS App Store or Google Play Store.

Follow the set-up steps and add your preferred payment method.

Select the icon of your charging location (figure 1)

Ensure you have selected the correct cable for your vehicle (figure 2).

Open the charger details by swiping the arrow up at bottom of the screen (figure 2)

Press the green Activate button to start your session (figure 3).

Plug the connector into your vehicle and voilà!
You should now see that your EV is charging, on the charger screen, the ChargeNet app and in your vehicle's dashboard.
Happy charging! ⚡️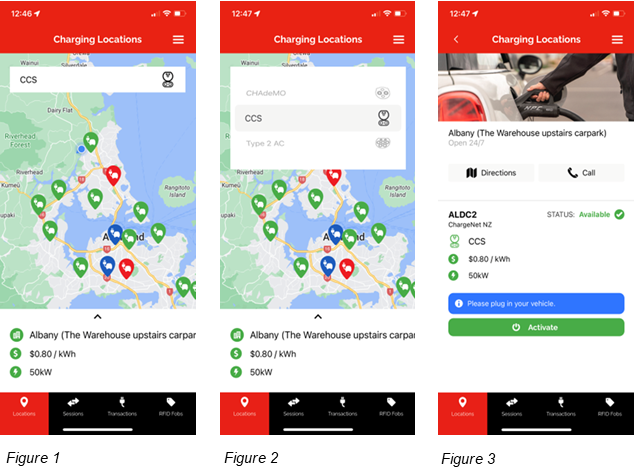 Quick tip #1: Allow the app to access your location, so it can recognise at which station you are. This way, picking the right charger is a breeze.
Quick tip #2: You can also find a list of all the ways to start charging your vehicle, in the 'Charging Info' section of the 'Vehicle' menu.
Quick tip #3: On stations that have the option of selecting a max charge (80% Max black button) these stations will default to an 80% charge as it is the quickest most efficient charge. If you wish to receive the max charge of 95%, please press the max button.